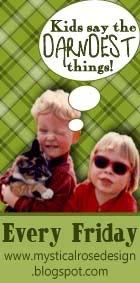 As I mentioned in the last installment of "Kids Say the Darndest Things," The Princess will sometimes have bad dreams & be in that not-quite-awake stage. A few months ago, I decided that, in addition to our family nighttime prayers, I would say a special one for her once she's in her bed. We list cheerful things & may vary it a bit, but this is the gist of it:
"Dear Heavenly Father, Please watch over (The Princess) as she sleeps tonight. Give her sweet dreams of rainbows & sunshine, lollipops & roses, lilacs & lavender, princesses & castles, fairies & unicorns, Mary & all the angels & Saints in Heaven, & all about God! Amen."
The Saint, now that he is sleeping w/ her in her bed, will pipe in at various words...usually the ones he thinks are fun to say. So, with a big smile on his face, he'll say, "
ca-als
" (castles), "
cor
" (unicorns), "
May-ee
" (Mary), & "
Dod
" (God).