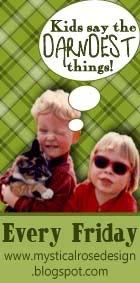 Join Us for Kids say the Darndest things
Oops! I goofed slightly last week. I should have included The Prophet for the Hail Mary comment, too. I forgot that he also said "Play with us sinners." Maybe it was something in the way we were teaching the boys...
Here's another from The Prophet:
When he was five years old, he was sitting at the table w/ a baked potato. He took his fork & put it into one end of the potato, held it up, & said,
"Look, it's a punch lifter."
After a few seconds, I realized that he meant it was a punch "ladle."
Click the link above to join Mystical Rose Design for more.