NOTE: Just to let my readers know...after today, I'm going to take a couple weeks off for a computer break. I need to replenish my spiritual well & reconnect w/ my family. Please keep us in our prayers & I'll "see" you when I return!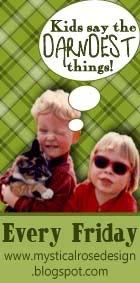 Every once in a while, The Princess will get up in the middle of the night, not quite awake. She'll pace around her room, whimpering & crying. Since The Saint sleeps in her room, I usually rush in there & take her to my room until she's calmed down. I know she's calm when I ask who she is & who I am. If she answers correctly, I lead her back to bed & she's good for the rest of the night.
The other night, she had one of these little episodes. When I asked who she was, she answered correctly. However, when I asked who I was, she said (w/out pause),
"Spiderman!"
I'm guessing she had a dream about Spiderman since the munchkins had watched one of the movies earlier in the day.