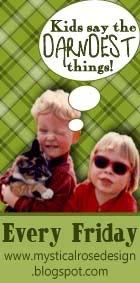 Join Us for Kids say the Darndest things
The Archangel has had a little trouble understanding figures of speech lately & taking them quite literally.
For example - We were having an issue w/ him not treating his siblings very well. We talked to him about being nice in return, even if they were not being nice to him. We used the phrase, "Killing them with kindness." His response:
"Does that mean you put love in your hand & punch them?"
Also - When we went to the zoo last week, I told the munchkins that Lawgirl was going to "tag along" with us. He said,
"That means she would run towards us & tag us to come along w/ us."
Perhaps I should add some figures of speech to his school lessons...
Check out
Lucy at Mystical Rose Design
for more of Kids Say the Darndest Things.