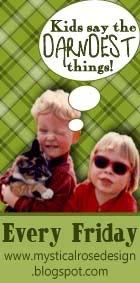 Join Us for Kids say the Darndest things
When we were visiting my parents last weekend, my mom was flipping through the kids' TV stations to find something for all nine of her grandkids to watch. She stopped at one & The Princess said she couldn't watch that show. (I don't remember what it was.) When my mom asked why, The Princess said,
"Because it will

affect

me."
Have your kids said anything memorable lately? Click on the graphic above to join in this weekly blog hop & share. Have a great weekend!